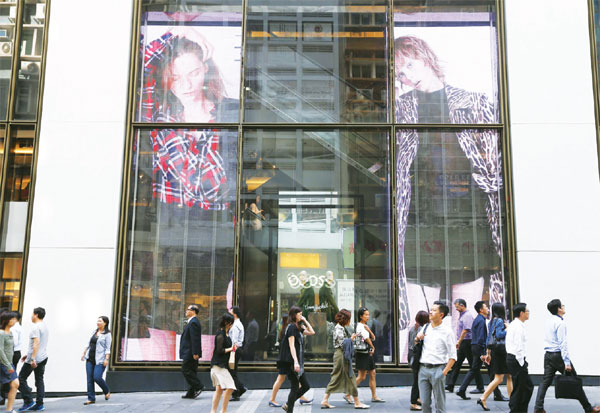 The SAR's retail industry is expected to see further falls in revenue if the "Occupy" protests go on, and there'll probably be no launch of new smartphones to give it a lift this time. Roy Liu / China Daily
October sales value up 1.4% over a year ago, but protests yet to be felt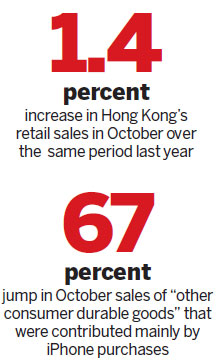 Driven by strong sales of iPhones, Hong Kong's retail sales increased by 1.4 percent in October, but government officials and industry experts warn that local consumption has been considerably affected by the "Occupy Central" campaign, and that the business environment could worsen in coming months.
The value of total retail sales for October this year surged by 1.4 percent over last year to HK$38.3 billion ($4.9 billion), the Census and Statistics Department said on Monday. The growth was driven by a 23.6-percent rise in sales of electrical goods and photographic equipment, as well as a 67-percent jump in sales of "other consumer durable goods" that were contributed mainly by iPhone sales.
Meanwhile, sales of jewelry, watches, clocks and valuable gifts dropped by 11.6 percent from a year ago; and those of clothing, footwear and allied products also saw an 8-percent, year-on-year decline. Total retail sales for the first 10 months of this year showed a decline of 0.2 percent from a year ago.
Financial Secretary John Tsang Chun-wah told a press conference on Monday he is concerned with the effect the ongoing protests would have on the local business environment, and enterprises in the city might be more cautious about expanding staff in future.
He noted that although the total number of visitors to Hong Kong in October had gone up from a year ago, the number of overseas tourists fell by 7 percent. There would certainly be a negative impact on the retail sector due to the loss of this large batch of foreign travelers.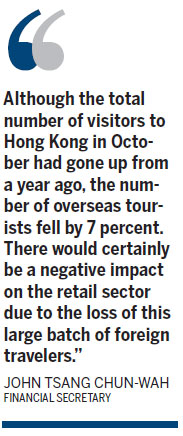 Tsang also said he is worried about the declining business momentum of small-and-medium sized enterprises in Hong Kong, as well as the poor performance of certain industries, such as the retail industry, as a result of the demonstrations.
A government spokesman noted that retail sales weakened in October, marked by visible declines in sales of jewelry, watches and clocks, and clothing and footwear. The performance of items closely related to local consumption was lackluster, conceivably reflecting the adverse impact of the "Occupy" movement on consumer sentiment.
After excluding the boost from the surge in sales of consumer durable goods due to the launch of new smartphone models, retail sales actually slackened to show a year-on-year decline in October.
Looking ahead, the retail sales performance in the near term would continue to hinge on the impact the protests would have on local and visitors' consumption sentiment. "We will continue to monitor the situation closely," the government spokesman said.
Caroline Mak, chairperson of the Hong Kong Retail Management Association (HKRMA), said that, compared with October 2013, sales of other consumer durable goods, electrical goods and photographic equipment increased by about HK$1.4 billion. "So, the surge in Hong Kong's retail sales for October should only be due to the launch of new iPhones," she said.
Mak warned that although some HKRMA members said their sales were starting to see signs of recovery in early November, the recent escalation of street tension in Mong Kok have sparked fears that the situation could get out of hand.