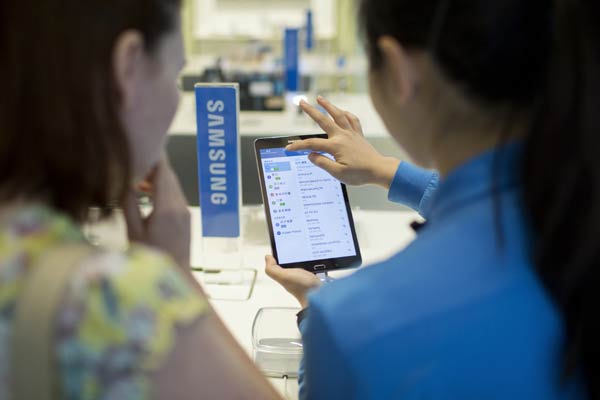 A retail store employee demonstrates a Samsung Galaxy Tab to a potential customer. Samsung Electronics Co, the world's largest smartphone maker by shipments, posted the lowest sales in its mobile-phone business in five quarters as Chinese producers gained in emerging markets with cheaper, feature-packed devices. BRENT LEWIN/GETTY IMAGES/BLOOMBERG
Loss of subsidies means sellers lose interest in long-term deals
The country's enthusiasm to build its fourth-generation network is yet to translate into any sustained growth in the number of once-popular contract phones being sold to customers.
Experts from market research consultancy GFK report that sales of 4G phones have been strong since March this year, with a 21 percent rise in sales between then and August to 7.13 million, representing a quarter of all new mobiles sold.
According to global credit ratings agency Fitch Ratings, Shenzhen-based ZTE Corp, one of the country's major contract phone providers, has probably benefited most from the 4G rollout as it offered the company an opportunity to repair its credit profile with encouraging sales revealed in its financial results for the first half of the year.
Ever since China's telecom operators waged war on each other for a share of the 3G market during second half of 2011, 3G phones have maintained more than half of the contract market, even taking up to nearly 60 percent at one point, according to GFK.
The State-owned Assets Supervision and Administration Commission of the State Council, however, in July asked the three major telecom operators to reduce their annual marketing spend by 20 percent for the next three years, which translates into as much as 40 billion yuan ($6.5 billion).
As a result, the contract mobile phones' market share instantly dropped to less than 50 percent in August, a record low since the beginning of this year, a decline which GFK experts predict to continue for the next few months.
The main reason for the cut in marketing spend was the huge cost subsidies that telecom operators had been giving to promote sales of 3G contract phones in the first place, estimated by Internet research firm iResearch to be worth 70 billion yuan in 2012.
Taking China Unicom as an example, subsidies given to its 3G gadgets were worth 7.8 billion yuan in 2013, up 27.8 percent year-on-year, accounting for nearly 18 percent of China Unicom's total marketing spend that year. For each of its most expensive handsets, such as the Apple iPhone, contract subsidies might be worth as much as 1,000 yuan.
According to Chen Shu, a freelance information technology expert, the reduction in marketing expenses is now likely to boost sales of mid-level phones as telecom operators are having to invest less in those, with e-commence channels devoting more.
As market research firm Sinobase found out, mobile phones priced at under 700 yuan each took up 53 percent of the market in 2013, but that figure is expected to drop to 45 percent this year.
"As a result, the market share of high-end mobile phones and mid-level phones will both increase proportionately," Chen says.
However, in reality, sales are unlikely to be that promising.
The market share of Samsung Electronics Co, for a long time the leading high-end mobile phone brand in China, dropped to 16 percent in the first eight months of 2014 from the 20 percent a year ago, according to GFK.
But on the other hand, domestic brands have seen their market share increase significantly. Apart from the two major overseas brands Samsung and Apple, another eight phone makers are now scrapping for their share of the contract market: Coolpad, Lenovo, Huawei, Vivo, Oppo, Xiaomi, Gionee, ZTE in sequence. Most are domestic phone makers.
"The four leading domestic phone makers, ZTE, Huawei, Coolpad and Lenovo, are looking closely at their sales methods. They are eliminating most of the phone models which are cheaper but sell better, and selling only carefully selected, but more competitive phones, which means that they are gradually waving goodbye to the contract phone market," said Chen.